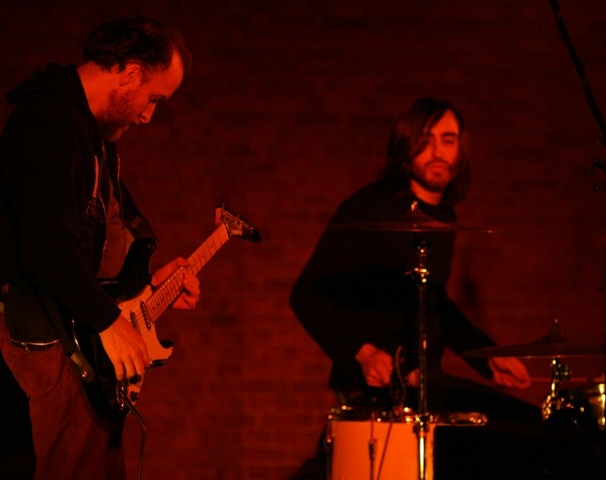 Last year when Aidan Baker released his Album "The Spectrum Of Distraction" including collaborations with 18 different drummers, he went on tour with A Sun Amissa to support his album.
This circumstance was the birth of an idea to do a show with Aidan Baker and a drummer. The guys over at thepostrock.de invited Aidan to do an improvisational show with Maik Erdas (former drummer of disbanded experimental Doom Trio Kodiak) in a church in Bochum (Germany).
The result was a 50 minutes long set full of different kinds of soundideas. Beginning with smooth melodies and rhythms, changing to experimental blueprints ending in an epic wall of doom sounds.
We are very proud to present you the documentation of this very unique evening. Aidan Baker put some final hands on the masters and the result is "Cameo", a Vinyl + CD release. The vinyl contains the first and the last part of the set and the CD completes the package including the whole set from the church show.
Limited to 250 Vinyl + CD sets
Vinyl: Cameo I + II (40 minutes)
CD: Cameo I – III (49 minutes)
The CD comes in a thick full colour paper wallet, with a full colour cd-onbody print. The vinyl comes in black with full colour labels housed in a stunning artwork by Phillip Kunze. Take a close look at the whole artwork and the details will keep some surprises ready. Just preorder your copy and you will find out…
All PREORDERS are being packed from 30/09/13 and will be shipped in the same week. Thanks for your patience.
Related release: A-Sun Amissa "Christuskirche Bochum 17.02.2013"