STRATOSPHERE
COLLABORATIONS II
"Collaborations II" isn´t just a documentation of a live event, it´s a document of a sonic continuance. This album is the sophomore collaboration gathering, curated by Stratosphere, who brought together some artists, who already got featured on previous Midira releases. Accompanied by Aidan Baker, Dirk Serries, N and Ashtoreth, who bring in their special trademark soundscapes, plus the experimental and dynamic percussion work by Tom Malmendier, Stratosphere builds five epic sound monuments. Every track unfolds a special aura and in the end all musicians come together for the final track, melding all their unique competences.
All sounds got mastered by Dirk Serries, who caught the sound dynamics of the performances, making them sound like a studio session. The event took place at Castle Bouckenborgh (Merksem, Belgium), which is also featured in the abstract artwork of the album, designed by N.
The CD is limited to 175 copies, housed in a 4panel digisleeve, including a full coloured 8page booklet.
The Boxset comes in an edition of 25 copies, featuring the CD and also an USB drive, housed in a handmade wooden box, designed, produced and handnumbered by Ronald Mariën aka Stratosphere, who did a incredible job. The wooden boxes are all one of a kind, build with love, sweat and blood (literally). The USB drive features all the solo performances and collaborations that took place at the release event of "Collaborations I". All sets are available in FullHD Video, WAV and MP3 format, plus some more bonus material.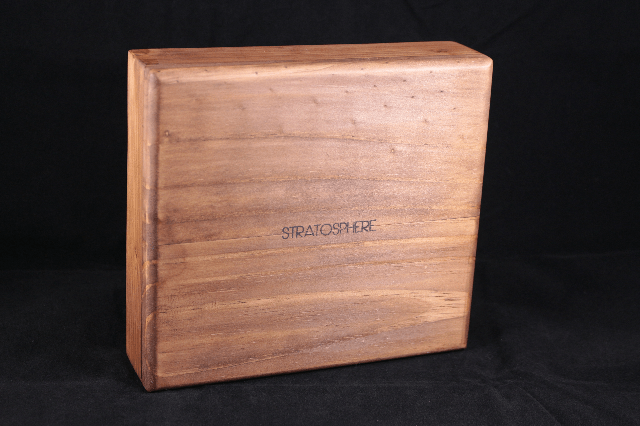 Stratosphere about the album
When "Collaborations I" was released, I really wanted to have a proper release event. I had the luck that most of the contributing artists lived nearby, or were willing to come over to perform with me. The event also gave the opportunity to create alternative versions of the original tracks, even with more artists than the tracks on "Collaborations I". And off course, when all those great artists were gathered, it was without a doubt, that all of us would perform together, thus the track "Final Conclusion" came together. With this release, a 5 year period has come to an end. 2 years of laying contacts, recording and having "Collaborations I" released. Many ideas passed but finally after another 3 years, this very unique event is now available as "Collaborations II".
Album
Stratosphere & Ashtoreth – Breaking Down Barriers / Revealing The Unknown
Stratosphere & N(70) – Lesum
Stratosphere, Dirk Serries & Tom Malmendier – Through Chaos, Cohesion Is Found
Stratosphere, Dirk Serries & Tom Malmendier – Desolation (Tour & Drums)
Stratosphere, Ashtoreth, Aidan Baker, Dirk Serries, N(81) & Tom Malmendier – Final Conclusion
Boxset
Ashtoreth – Conjure
Stratosphere & Ashtoreth – Breaking The Barriers / Revealing The Unknown
Aidan Baker – Untitled Guitar
Aidan Baker & Tom Malmendier – Untitled Guitar + Drums
Stratosphere & N(70) – Lesum
Scatterwound – Merksem
Stratosphere, Dirk Serries & Tom Malmendier – Through Chaos, Cohesion Is Found
Stratosphere, Dirk Serries & Tom Malmendier – Desolation (Tour&Drums)
Stratosphere, Aidan Baker, Ashtoreth, N(81), Dirk Serries & Tom Malmendier – Final Conclusion
Stratosphere & Ashtoreth – Gaze (Hidden Track)
Credits:
sounds by Stratosphere, Ashtoreth, Aidan Baker, N, Dirk Serries and Tom Malmendier
CD artwork by N
mastered by Dirk Serries
Boxset by Stratosphere
Technical:
CD / Limited to 175 copies
4 panel digisleeve / 8 page full coloured booklet
CD+USB Boxset / Limited to 25 copies
handcrafted wooden box / stamped and numbered / magnetic closure / USB stick with wooden covering