"Modulation Grid II" is a documentation and continuation of a live set, which took place at the Moving Noises Festival 2019 at Christuskirche Bochum. TONUS started the festival with a very intimate and quiet set simply based on accordion and concertina.
The concert side of the tape features the recording mixed and mastered by Dirk Serries also using the room recordings to deliver a facsimile listening experience, including the creaking of the pews when the audience slowly convened in the church room.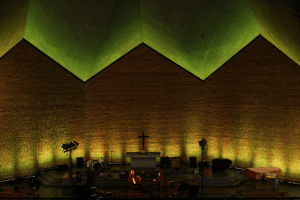 The deconstruction side of the tape features an epic Remix by A-Sun Amissa, who also played at the Moving Noises Festival 2019. Richard Knox reworked the concert recording into 28 minutes of slowly evolving ambient landscapes ending up in a crescendo full of drones.
All in all it´s not just a simple collaboration of people who met, it´s a collaboration of three couples with a grand devotion for music.
The album comes in an edition of 80 copies, 40 copies on transparent tapes and 40 copies on grey recycled tapes, each with individual onbody prints. All housed in a maltese crossed sleeve made of rough grey recycled cardboard, printed on both sides.
Dirk Serries about the project:
TONUS is an ensemble project formed by Dirk Serries, focusing on the improvised relationship between sound and silence, often based upon a graphic score. It originated in 2017 at Serries' residency at Jazzcase in Limburg, Belgium, for which he brought together a sextet to work around a slow piano motif by Martina Verhoeven.
The literal translation of TONUS is muscle strength, but in this context defines a musical system that places equal importance on the space between notes. Both definitions apply here as the music is an exercise in discipline and anticipation while controlling the clarity, sustain and effect of each single note played. TONUS acts as a vehicle to explore and perform these exercises, as well as a general classification for his ongoing study in minimalism and free improvisation.
Modulation Grid II is a score especially written for TONUS' performance at Moving Noises Festival 2019, reducing the minimalist ensemble to a duo on accordion (Dirk Serries) and concertina (Martina Verhoeven).  Knowing the spacious acoustics of Christuskirche Bochum, Dirk Serries wrote this piece for these 2 acoustic instruments to create this haunting and melancholic structure of overlapping tonalities and silences.  For this release TONUS invited A-Sun-Amissa to deconstruct the performance and transform it into a stunning vintage ambient piece.
01 TONUS – Modulation Grid II (concert) [23:31]
02 TONUS x A-SUN AMISSA – Modulation Grid II (deconstruction) [28:26]
Credits:
Dirk Serries (accordion, mixing and mastering)
Martina Verhoeven (concertina and cover photography)
Richard Knox | A-Sun Amissa (deconstruction)
Technical:
Tape / 40 transparent | 40 recycled grey (each with individual onbody print)
maltese crossed sleeve / printed on thick and rough recycled grey cardboard / printed on both sides