THISQUIETARMY X N
ZERSTOEREN
We waited a long time for this and now it´s time to reveal the secret behind the thisquietarmy / N collaboration. Everything started with a live performance in Cologne and a follow-up studio session in Duisburg back in June 2019. The productive and energertic studio session brought out 5 epic tracks, recorded by Kokomo drummer Tobias Stieler. And guess what, those tracks are not on "Zerstoeren", they will be released later on in winter/spring 2022 as the LP+CD double album "Zerfall / Zerfallen" (MD 097). "Zerstoeren" features a track that got recorded after those 5 tracks, when Tobias joined Hellmut and Eric to record one more track with drums.
That track got recorded – and here comes the twist – it never got mixed and mastered. Instead thisquietarmy and N decided to send the single guitar and drum tracks to some close friends and midira family members. So the never heard track got deconstructed and reconstructed by Dirk Serries, Tom Malmendier, The Star Pillow, S A R R A M, Aidan Baker, the Hypnodrone Ensemble collective and of course by thisquietarmy and N.
The result is an album featuring some very exciting collaborations and reworks of a track that never was a track, more a blueprint or a studio session conclusion. In the end "Zerstoeren" features 8 tracks created by parts of the original recordings but also by added instruments and effects of all the artists included.
"Zerstoeren" comes in an edition of 160 copies in four different colourways (grey recycle, vintage bronze, vintage silver and clear transparent), housed in maltese crossed covers. The sleeves come on natural brown cardboard, printed on both sides, with a rough finish.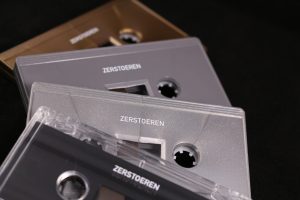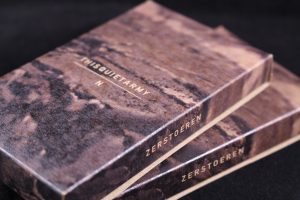 deconstructed and reconstructed by
01. Dirk Serries
02. S A R R A M
03. thisquietarmy & Tom Malmendier
04. thisquietarmy & Aidan Baker
05. thisquietarmy
06. Hypnodrone Ensemble
07. The Star Pillow
08. N
Credits:
thisquietarmy (amps+guitars)
N (amps+guitars)
Tobias Stieler (drums)
recorded by Tobias Stieler, June 2019
mastered by Eric Quach, March 2021
photographies by Roxane De Koninck
deconstructed and reconstructed between march and may 2021 by:
Dirk Serries
S A R R A M
thisquietarmy & Tom Malmendier
thisquietarmy & Aidan Baker
thisquietarmy
Hypnodrone Ensemble (Aidan Baker, Jeremie Mortier, Angela Munoz, Eric Quach, Kristin Sebastian)
The Star Pillow
N (101)
Technical:
Tape / Limited to 160 copies / four colourways
Full coloured artwork / maltese crossed sleeve design / manila brown cardboard / rough finish